Going Small 2.0: Lightweight Motorcycle All Over Again by Andrew Pain slaps some sense into the consumer bowing to industry and peer pressure to buy bigger, faster, with a higher price tag, with more options and accessories than 99% of the world population have in their house. [Special offer at end of this post.]
I remember bicycling through West Africa and, having ridden beyond tourist accommodations, having to camp in rural villages. It was then I realized that I had more stuff on my bike than the entire village possessed. The self-inflating sleeping pad, the tent, the magical fire-making machine, medical supplies, and tools, not to mention the electronics, most of which I kept hidden. And this was on my bicycle.
During that journey, and others by motorcycle, I liked to congratulate myself for being so compact. But always, always, there was some guy on an impossibly-laden bicycle pedaling the same route. He would be wearing flip-flops, shorts, and a t-shirt, no change of clothes, no sleeping bag, no toiletry kit, no meds. It was humbling, to say the least.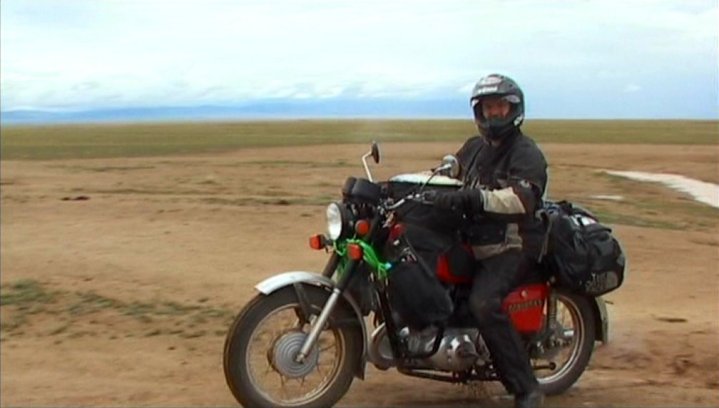 Now, I have been considering a KTM 690 dual-sport for future adventures, but Andrew's thinking is right, probably the KTM 350 EXC I'm playing with here in the Anza-Borrego Desert would do quite fine. This kind of bike has done just fine for many, like Danielle Murdoch, who traded her 2007 Suzuki DRZ-250 for a 1999 DR 350 for her current Australia to Africa Adventure. Or Lois Pryce, who traversed the length of the Americas on her Yamaha XT225 Serow. Mondo Enduro's Austin Vince regularly uses 350 dual-sports for his awesomely epic adventures. Of course, actors and motorcycle film stars McGregor and Boorman did not heed his example (and they asked his advice), so it was somewhat satisfying that their photographer Claudio von Planta (pictured here) fared exponentially better on a cheap 350cc Russian-made IZh Planeta 5 when his big bike became irreparable.
We all used to take off on whatever was available. My first long-distance adventure machine was a Yamaha 650 Maxim cruiser. I'd throw a duffle on the back without hesitation, trundling off the byways down fire roads to free-camp in the woods. Did we even worry about tire types back then? Suspension? "Special" motorcycle camping gear? Not really.
Be careful what you think, because your thoughts run your life. (Proverbs 4:23). This maxim has made its way into countless motivational books and speeches. Nothing to fear but fear itself, etc. Advertiser influence may convince you spend all your money on farkles based on a fear that unless you have it you will fail. Think of farkles and farkles then shall you be. The quest for huge specialty vehicles replete with farkles is destructive to the quest for travel, advises the author in this nicely thought out book, as the cost of each new accessory diminishes your travel budget and your chance of succeeding in your quest to travel.
I read a Forbes article today on the 17 counterintuitive things the most successful people do. One of them is to "Ignore Consensus – when your own data and foresight is convincingly contrary to the wisdom of the crowd (like Jobs, MLK, Gandhi). Consensus bonds us together and creates harmony, but it rarely moves us forward. Progress sometimes has to come at the hands of an individual's decisive disruption."
What does success mean to you? Is your goal to travel or to possess a fabulously farkled vehicle? What do you actually need for your trip? In Going Small Andrew Pain has ignored consensus, ignored commerce, and ignored frivolity in arguing his point for small bike, small roads, and small price. Even if you're convinced that bigger is better, you'll find his reviews of motorcycle and camping gear useful. Pare it down! Most of us motorcycle travelers avoid freeways, anyway. Much of Pain's points cover want versus need. Spend money on bike versus spend money on travel. Who's to say? Just you. Bon voyage!
Going Small 2.0: Lightweight Motorcycle All Over Again by Andrew Pain is available in print in Amazon's CreateSpace store. Use code RSLCRDVX for $2 off through this Saturday, March 24th.